The following article appeared in the LitSoftware blog on January 30, 2020. You can view the original post here.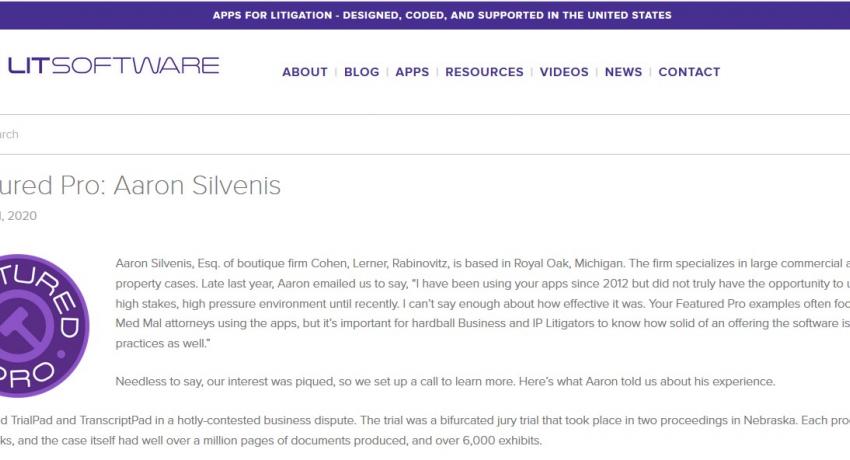 Aaron Silvenis, Esq. of boutique firm Cohen, Lerner, Rabinovitz, is based in Royal Oak, Michigan. The firm specializes in large commercial and intellectual property cases. Late last year, Aaron emailed us to say, "I have been using your apps since 2012 but did not truly have the opportunity to use it in such a high stakes, high pressure environment until recently. I can't say enough about how effective it was. Your Featured Pro examples often focus on PI and Med Mal attorneys using the apps, but it's important for hardball Business and IP Litigators to know how solid of an offering the software is for their practices as well."
Needless to say, our interest was piqued, so we set up a call to learn more. Here's what Aaron told us about his experience.
Aaron used TrialPad and TranscriptPad in a hotly-contested business dispute. The trial was a bifurcated jury trial that took place in two proceedings in Nebraska. Each proceeding was three weeks, and the case itself had well over a million pages of documents produced, and over 6,000 exhibits.
TRIAL PREPARATION
Aaron's opposing counsel in this matter was from a major Midwest big-law firm, which had dedicated two lead attorneys, four associates, and several staff to the case. Their strategy at the outset of the matter could fairly be characterized as "death by paper." For example, Aaron told us of being faced with 26 pre-trial motions with only three days to respond. Throughout the trial preparation, LIT SOFTWARE apps were Aaron's most helpful tools.
Aaron started by having all documents Bates stamped (easy to do in DocReviewPad), and identifying key areas in the claim, and topics that would need to be discussed for the purposes of trial. Each of those topics became an Issue Code to be used across DocReviewPad and TranscriptPad. The most important documents were identified as the case progressed, and brought into TrialPad for reference in every step of the case, from depositions to hearings, and finally to trial. 
In TranscriptPad, in addition to important testimony around each issue, Aaron also identified key sections of testimony to run reports that would offer a high level view of the case. Knowing that a particular witness discusses "copyright" on specific pages of the transcript became key to responding to motions before trial, as well as to live testimony in front of the judge and jury.
AT TRIAL
When it came to trial, the big-law team added an expensive trial technician to run a laptop-based trial presentation program. But from Aaron's perspective, they were paying huge money for a huge disadvantage. The technician didn't know the documents or the testimony the way the attorneys did (nor could he be expected to, having flown in only a few days prior to trial). Therefore, he couldn't be counted on to find a specific document without knowing its exhibit number, and wouldn't know to locate a specific off-script page when the witness offered an unexpected nuance. 
 Aaron told us that, "Trial has ebbs and flows, and you need to be able to pivot very quickly, whether that is a tweak to your argument, or finding one sentence in a mountain of pages." By keeping everything on the iPad, and constantly accessing his documents and transcripts for every motion, every hearing, and every deposition, it was second nature to find exactly what was needed at a second's notice during trial. 
 Aaron felt like many of our users in trial—like David to the large firm litigation team's Goliath. He said the courtroom looked like an army on one side, "Meanwhile, I orchestrated the case presentation using only my iPad, TrialPad and TranscriptPad." In the end, Aaron's client came out on top to the tune of several million dollars. 
Aaron told us that he was amazed at "how potent this little app can be. TrialPad in court is seamless. No other software allows you to gel your argument and your presentation this well with this many documents."
 He also said that, "TrialPad was an indispensable tool and I absolutely intend on continuing to use it for all trials in the future." Just prior to publication, Aaron emailed us to follow up, "You'll be pleased to hear that I just used TrialPad in a 2.5 week jury trial and both opposing counsel and the Court were impressed with the powerful and robust nature of the software. It also was (another) great outcome in our favor…"