The following article appeared on Up North Live on June 23, 2020. You can view the original article here.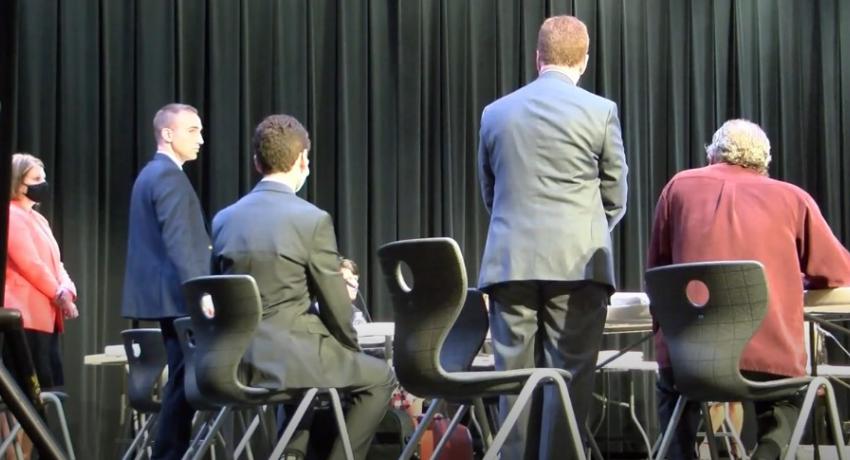 GRAND TRAVERSE COUNTY, Mich., (WPBN/WGTU) -- What was likely the state's first court case to take place since the coronavirus pandemic shut down courtrooms statewide happened Tuesday in Grand Traverse County, but it looked a little different, starting with a change of scenery.
Jury selection happened not at the Grand Traverse County Courthouse, but instead, at a local high school.
No chambers, no bench, no jury box. Instead, lights, camera and a whole lot of space.
Roughly three dozen Grand Traverse County residents took part in jury selection within the auditorium of Traverse City Central High School Tuesday morning.
A plan that was formulated, in part, by 13th Circuit Court Judge Thomas G. Power.
"We don't have a room big enough at the courthouse to spread out a jury pool for jury selection, that could be 40-60 people, and have to them seated in the main courtroom is not that amount safe under current circumstances," Power said.
While current circumstances prompted a change in location, common practices that have emerged during the pandemic we're also implemented.
Potential jurors were instructed to wear masks and fill out a health questionnaire prior to entering the auditorium.
Once inside, and despite the obvious changes, regular courtroom procedure developed on stage.
When a possible juror's name was called, he or she entered stage left.
Attorneys took turns with their questioning, and roughly two hours later, seven jurors we're selected. The six required for a civil case and one alternate.
With jurors dismissed, emerged agreement that things went smoothly, but not without some added challenges deriving from this new normal.
"The problem is I can't see the jurors faces through the mask," one of the attorneys said. "Part of my job as an attorney is sensing what I'm saying and how its effecting the jurors and so it's impossible for me to see what their facial reactions are when they're covered by a mask."
While any procedural changes will be considered moving forward, Judge Power said Tuesday's proceedings will begin the process of promoting resolutions to cases that have been forced to be put on pause.
"Now we're going to be able to provide parties with firm trial dates," Power said. "This process of doing jury selection in an auditorium setting is key to that process."
After the jury was officially selected, the case then moved to the courthouse.
Following today's civil trial surrounding a car crash, we're told a criminal trial scheduled for next week will follow the same procedures.