The following article was written by Louis Aguilar and published in The Detroit News on October 30, 2014. See the original article at www.detroitnews.com.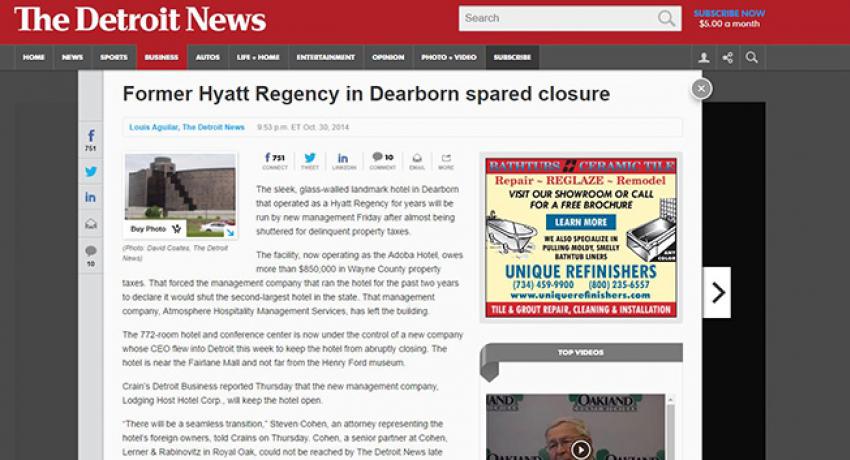 The sleek, glass-walled landmark hotel in Dearborn that operated as a Hyatt Regency for years will be run by new management Friday after almost being shuttered for delinquent property taxes.
The facility, now operating as the Adoba Hotel, owes more than $850,000 in Wayne County property taxes. That forced the management company that ran the hotel for the past two years to declare it would shut the second-largest hotel in the state. That management company, Atmosphere Hospitality Management Services, has left the building.
The 772-room hotel and conference center is now under the control of a new company whose CEO flew into Detroit this week to keep the hotel from abruptly closing. The hotel is near the Fairlane Mall and not far from the Henry Ford museum.
Crain's Detroit Business reported Thursday that the new management company, Lodging Host Hotel Corp., will keep the hotel open.
"There will be a seamless transition," Steven Cohen, an attorney representing the hotel's foreign owners, told Crains on Thursday. Cohen, a senior partner at Cohen, Lerner & Rabinovitz in Royal Oak, could not be reached by The Detroit News late Thurday afternoon. "The hotel will be open for business as always and there will be no break in operation or obligation," Cohen told Crain's.
The staff of more than 200 will keep their jobs, Cohen said.
The city of Dearborn is working with the owners, Royal Realties, to keep the hotel open.
"We are optimistic that this landmark hotel will continue serving guests and employing staff members," said Mayor John O'Reilly in a prepared statement. "The hotel accommodates so many conferences and visitors to Dearborn, whose impression of our city often starts with their experience at the hotel. We have every reason to work with the owners to ensure that the hotel remains an appealing center of hospitality and commerce in our community and region."
The hotel still face challenges due to its delinquent property taxes. Dearborn code says a hotel license cannot be issued if personal property taxes are not paid.
City officials said Royal Realities was in court late on Thursday petitioning for the release of insurance money held in escrow so that it could immediately pay the back taxes.