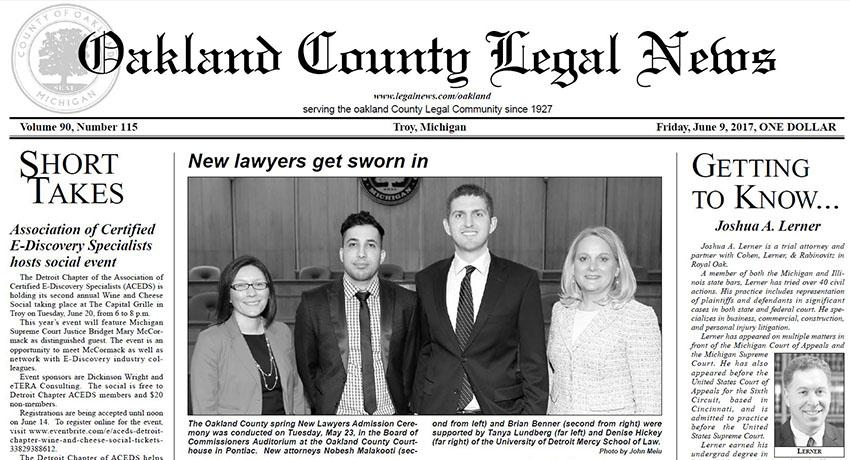 Joshua A. Lerner is a trial attorney and partner with Cohen, Lerner, & Rabinovitz in Royal Oak.

A member of both the Michigan and Illinois state bars, Lerner has tried over 40 civil actions. His practice includes representation of plaintiffs and defendants in significant cases in both state and federal court. He specializes in business, commercial, construction, and personal injury litigation.

Lerner has appeared on multiple matters in front of the Michigan Court of Appeals and the Michigan Supreme Court. He has also appeared before the United States Court of Appeals for the Sixth Circuit, based in Cincinnati, and is admitted to practice before the United States Supreme Court.

Lerner earned his undergrad degree in history and political science from the University of Wisconsin and his J.D. from Indiana University School of Law, where he was among the Order of the Barrister, a member of the Indiana International & Comparative Law Review, and took first place in the Moot Court Competition. And during a year as a visiting student at Wayne State University Law School he won an American Jurisprudence Award for Trial Advocacy.

A Lifetime Fellow of the Oakland County Bar Foundation, Lerner is a former president and 20-year board member Hillel of Metro Detroit (Wayne State), a bar lecturer for the Wolverine and Straker Bar Associations, and a former chair of the State Bar of Michigan Young Lawyers Section and Board of Commissioners.


By Sheila Pursglove
Legal News

What would surprise people about your job?
Like most lawyers, the ability to multi-task and – most important – to start and stop things all day long.
 
Why did you become a lawyer?
I always wanted to work in television and practice law.  I was a TV news producer for several years before I went to law school working at various places including CNN. I figured it was easier for a TV producer to become a lawyer than a lawyer to become a TV producer.

What TV shows did you work on?
"Larry King Live," "PM Magazine," WOR-TV in New York, WDIV-TV in Detroit, and WANE-TV in Fort Wayne.

What did you most enjoy about TV work?
I always enjoyed the creative process of television – I enjoyed telling stories and making complicated things simple. I enjoyed the news business because it was fast-paced and new every day. Also, you had a sense of accomplishment – when a show was produced, it went on the air. Good or bad, when it was over, that was it and you move on to the next day. You also get the sense that with television news, you're in the middle of the action observing and reporting what was happening.

Are there similarities between producing a news program and being a trial attorney?
They both require a lot of time and organization, but ultimately, you're making a presentation to people. However, in court, you can actually see the reactions of people, on television you have to guess as to how what you are doing is being received. The key in both jobs is making complicated things simple. I enjoy being in front of a jury and helping to explain my client's case to them and why our position is the right one.

Who are your law role models – real and/or fictional?
Steven I. Victor was a long time attorney practicing in Wayne and Oakland counties. He practiced more than 50 years. When he ran for judge in the '60s and lost, he remarked, "The people of Wayne County have overwhelming voted for me to remain in private practice."
 
What advice do you have for someone considering law school?
Take a bar review course before your first year. The material is presented in a very succinct and easy to understand format. It is like entering a maze through the exit. It will be an excellent foundation for your first year of law school.
 
What's your proudest moment as a lawyer?
Fortunately, there have been many. I once argued a case in front of the Michigan Supreme Court. My wife and three friends came to Lansing to hear me argue. It meant a great deal to me.  Winning the case was nice too.
 
What do you do to relax?
I enjoy hanging out with my family and going on long bike rides.
 
What would you say to your 16-year-old self?
Slow down. You don't always have to get to where you are going first.

If you could have one super power, what would it be?
Flying. You would never have to fight traffic.
 
What's the best advice you ever received?
Keep your problems in perspective and be thankful for the blessings you have in life.
 
What do you consider to be your greatest achievement?
I am blessed to have a wonderful wife and three fabulous children.
 
What is the most unusual thing you have done?
 I went sky diving in New Zealand.

As a native and resident of the Greater Detroit area, what do you most enjoy about the Motor City?
I've seen it come a long way – even in the last five years, you can see a difference. It's nice to be a part, albeit a small one, of what is going on. My hope is that by the time my youngest graduates college in 2029, that the Metro Detroit area will be just the type of place where she wants to return to and begin her life as an adult.